With decades of experience in understanding the digital economy, Adrecom is strategically situated to help our clients deliver a more intuitive and engaging website experience to their customers. Whether you offer products or services to a B2C or B2B customer, our Web Presence Management (WPM) services will give you the tools and the support to convert your underperforming website to a revenue generating vehicle.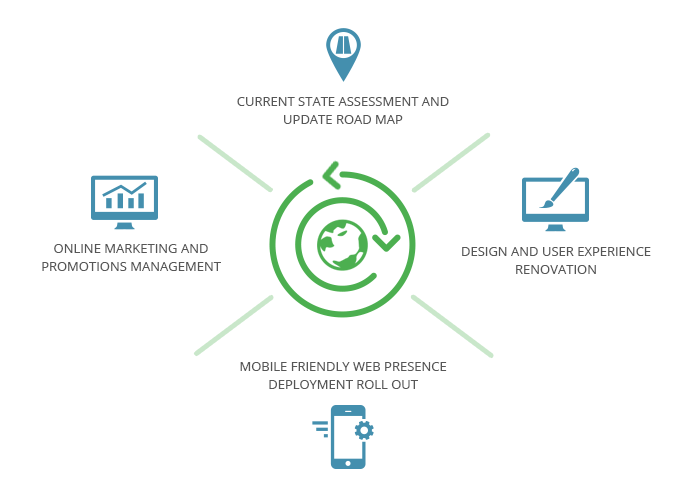 Definition
Business and User Requirement Gathering - An Adrecom professional, in close consultation with members of your corporate management, will determine what your company's business objectives are for its website. Then, we will explore your specific end-user requirements so we can build the perfect site to fit your needs, be it an online presence solution or an interactive eCommerce portal.
Competition Study - Your company's website should not be built in a vacuum. To make you truly competitive, we will evaluate the sites of your direct competitors, identify a best practices features set and strategize how best to position your web presence.
Use Case and Functional Specification Development - Once we've defined your business needs, we can determine the tasks and services your site will need to perform. With all of this background information, we are ready to step into the Deployment Stage.
Deployment
System Architecture and User Interface Design - The site user's experience is the most critical element to determining its success. If your customers don't find what they seek within three clicks, most of them will leave. We therefore combine established information architecture techniques with sophisticated interaction design based on end-user testing to build an intuitive site architecture that quickly and clearly provides your users with their optimal experience. Additionally, we will examine your target market and design your site to appeal aesthetically to them, helping you attract higher quality and more appropriate customers.
Software Platform Set-Up and Customization - Designed with customization and scalability in mind, Adrecom's Rapid Extensions Architecture Platform (REAP) enables versatile management of tailored solutions rollouts as well as rapid customizations to answer specific needs. Once we have identified your functional needs, we install the applicable platform pack to satisfy your defined business cases. We then configure the system in keeping with the determined information architecture and web design plan. Particular workflow requirements will be met with on-demand customization. Of course, Adrecom's development team codes your website in full compliance with current W3C standards.
Third-Party and Legacy System Integration - Adrecom has extensive experience integrating our systems with the business operation and marketing software our clients are already using. Whether your company uses off-the-shelf or in-house systems, we will ensure perfect integration and smooth data transfers between your website's back-end system and any third-party program.
Stress Test - The final step of the Deployment Stage is ensuring that your website can handle anything that will come its way, even under the most intense situations. Once we see that the system is ready for deployment, we move on to the Delivery Stage.
Delivery
Installation - When we are ready to deliver the system to you, we begin with installation. We upload the system onto servers and ensure that no bugs have developed during this process.
Training - Of course, we will fully train members of your staff in every aspect of using the system.
User Acceptance Testing - In this final stage of the actual delivery, we meet with you to guarantee that the final website meets the purposes and needs that we agreed upon during the Definition Stage.
Project Review - After delivery and acceptance, we will review the entire project and deliver to you a written report.