The Annual Maimonides Academy Golf Classic is a philanthropic institution that raises money for students belonging to families that could otherwise not afford its tuition. In 2012 the Maimonides Academy located in Los Angeles, California utilized Adrecom's advanced portal solutions to launch a site for its 6th annual golf classic.

Presentation
The graphic design team chose a relatively small amount of colors to create a simple, consistent, neat and organized portrayal
site theme. Template settings were configured throughout the site to consistently display a linked graphic to Edmunds.com, a sponsor, and to the Maimonides Academy's own unlinked icon. The site uses top and bottom navigation and site content utilizes the left and right sides of the page in a visually pleasing and easy-to-view manner.

Corporate Sponsorship Opportunities
Adrecom's back end site-building tools were used to create the Corporate Sponsorship Opportunities page, which allows front end visitors to simultaneously view needed donations and their amounts as well as the ability to become a sponsor by claiming a sum. Using our editing tools feature, each sum can be written with a short description summary visible from the Corporate Sponsorship Opportunities page and/or a longer description on its own respective page. The site's current setting displays the sum in descending order, although the Adrecom team and site administrator's with access can easily edit the information as they see fit. A site administrator can as well access the Back Office to change the donation's status between the available default and the SOLD status. Finally, the header titled Corporate Sponsorship Opportunities serves as a link to that topic's respective page, where the information is displayed in greater detail.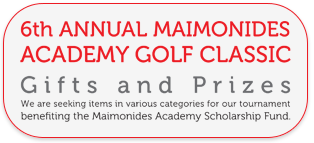 The Home Page as well makes use of Adrecom's media assets management capabilities, used to integrate various forms of media, such as images, videos and PDF's into front end layout. The Maimonides Academy opted to display a link to its Gifts and Prizes donation sheet on the Home Page, which displays a PDF for site visitors who wish to make a donation to print out and sign.

Organization's Co-Chairs and Committee Members
The organization's Co-Chairs and Committee Members were added through Back Office functionality and displayed on the front end. Members can be added by Adrecom's team or by website administrator's with access to configuration settings and member information can be deleted and edited as well.

Tournament Schedule
Adrecom created the Maimonides Academy's Tournament Schedule page using template configuration settings with built-in image capabilities, such as the Tournament Schedule page's linked icon belonging to a sponsor of the scholarship fund.

Contact Maimonides Academy
The Maimonides Academy as well needed a Contact page, which makes use of Adrecom's back office form functionality, part of our Editing Tools module. Adrecom's form functionality flexibility allows for creating forms with different types of user fields. In this case, Maimonides uses text fields, used to fill out text, a dragdown menu for choosing the subject of the query, a larger field for entering notes and a standard field to prevent robot entrance.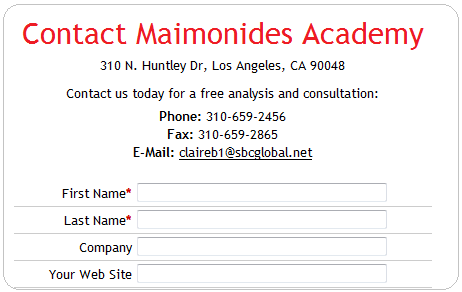 Spages
The Adrecom Back Office also contains SPage functionality, which is typically designated for page content that does not change, or remains static. Maimonides Academy site uses the Static Page module for its Policy and Help pages.
All in all, the project was a success, allowing the Annual Maimonides Academy Golf Classic to be a success in the present and in the years to come.